The first construction stage of Salmon Evolution's land-based fish farm at Indre Harøy in Hustadvika local authority in western Norway is progressing as planned, with a number of companies from the surrounding region involved as suppliers. Contracts placed include one with PTG Frionordica in Malmefjorden.
This delivery – one of a series from local companies covering equipment, services and expertise – involves an energy plant with six large heat pumps for the first stage. It has been awarded by Artec Aqua in Ålesund, turnkey contractor for the fish farm.
In full swing
Everything to be supplied by PTG will be manufactured at its Malme­fjorden factory, which lies a mere 20 kilometres from the site where Salmon Evolution is in full swing building one of Europe's largest fish farms on land.
"This is unques­tio­nably a big feather in our cap, and perfect timing in relation to the enlargement and moder­ni­sation of our plant," says Steinar Dale, production manager at PTG and the man in charge of the Malme­fjorden expansion. "These big heat pumps will undoubtedly dominate our premises through to the summer of 2022."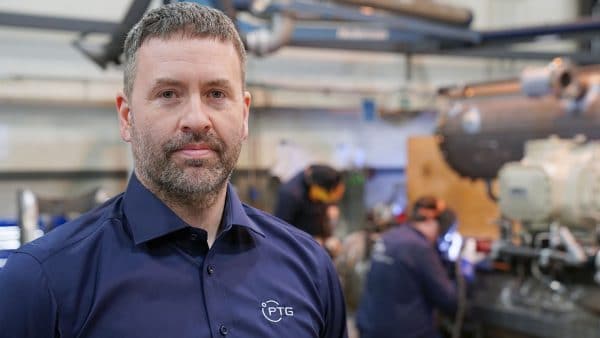 Steinar Dale, production manager at PTG.
More manufacturing capacity
PTG decided in the autumn of 2019 to spend more than NOK 20 million on an expansion of its Malme­fjorden factory. This project has now been completed, and will be followed by a second stage which involves installing welding robots to strengthen compe­ti­ti­veness and further increase manufacturing capacity.
Costing about NOK 5 million, the first set of these robots has already been ordered for instal­lation in early 2021.
Big units
"These heat pumps for Salmon Evolution are big units by Norwegian standards," reports Dale. "The largest is twice the size of those we've delivered earlier, and represent an upscaling of a design which is tested and estab­lished in the market.
"In terms of nominal output, we're moving from 3 000 to 6 000 kW while the weight is also doubling from 10 to 20 tonnes apiece. We've therefore also increased the lifting capacity of the cranes in our plant."
PTG's Malme­fjorden facility builds and assembles heat pumps in the factory, with everything checked and tested for quality and strength before shipment. This means they arrive at the construction site requiring only hook-up and final function testing.
Pride and security
"The contract with Artec Aqua and Salmon Evolution is a source of pride and security for our employees," says Dale. "It's a good reference to take out to the market, since many land-based fish farms are under devel­opment in Norway and internationally."
He reports that customers in the seafood industry are working flat out, despite the corona­virus pandemic. PTG has a record order backlog, and recruited 47 new employees nationwide during 2020.
Success on land
Artec Aqua is a turnkey contractor for and supplier to land-based aquaculture, and a specialist with the under­lying technology. It became involved at an early stage in this niche market, where part or all of the fish is produced ashore. The company is playing a key role in assem­bling a complete and highly competent team on behalf of Salmon Evolution.
"We're an expertise-based company which handles all the inter­faces between the various suppliers in a construction project," explains project manager Ole Gunnar Lyngstad at Artec Aqua.
He estimates that the first Salmon Evolution construction stage corre­sponds to about 325 work-years. Put another way, that means 163 people will be at work on site or at a supplier for every day this stage lasts.
"We expect to have about 200 people on the construction site at peak," says Lyngstad, who is currently based at the Salmon Evolution construction site.
Fabulous journey
Artec Aqua has been on a fabulous journey since its estab­lishment in 2002, taking it from delivering individual products to supplying complete land-based aquaculture facilities such as roe and smolt plants, and now fish farms.
The company's use of a large number of sub-suppliers gives it an important role in relation to other local and national players in this industry.
"A good supplier network not only increase the expertise available to us, but also boosts our flexi­bility and capacity," says Lyngstad. "Where our local and national suppliers are concerned, this naturally means that we stir up a good deal of work which falls to them."
Cost challenges
He notes that costs represent one of the biggest challenges in seeking to bring fish farming ashore.
"Instead of simply putting a big net in the sea, you have to transport water to and from enclosed tanks on land, and that calls not least for access to a lot of water," he observes. "This means we have an advantage here in Norway with sites which have good supplies of such resources as seawater and fresh water.
"It's reassuring for Salmon Evolution to be able to draw on a complete expertise network in both construction and operating phases. And possessing a host of Norwegian suppliers with comple­mentary expertise and experience is a big advantage for us."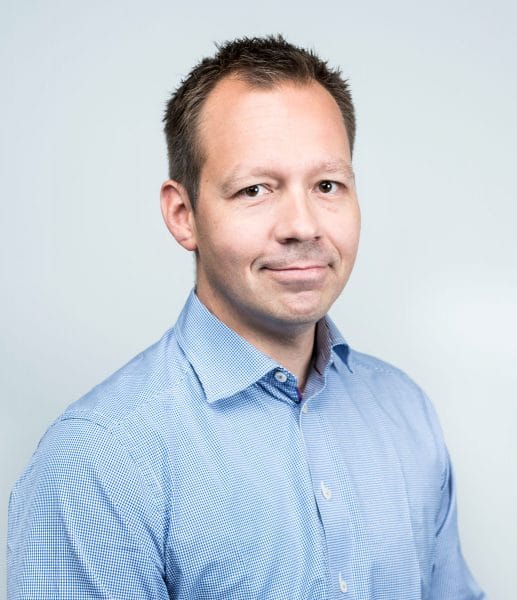 Ole Gunnar Lyngstad, project manager at Artec Aqua.