"We're celebrating that Norwegian companies are investing in forward-looking and modern production in Norway," prime minister Erna Solberg said today when opening PTG's expanded manufacturing plant at Malme­fjorden in Hustadvika local authority.
Solberg performed the official opening ceremony for the new premises via the internet, and was also a virtual parti­cipant when PTG Frionordica and Artec Aqua in Ålesund signed a contract.
"I would have much preferred to be there with you, but hope to be allowed to visit later," Solberg said. "Because even though we've had a corona­virus crisis over the past year, you haven't been idle. You've invested large sums in expanding the factory to increase production capacity for Norwegian seafood – with smaller energy use and carbon footprint."
PTG decided in the autumn of 2019 to spend more than NOK 20 million on expanding the Malme­fjorden plant. This project is now completed, and will be supple­mented over the coming year with further investment in hyper­modern production equipment.
Sustai­nable and forward-looking
"We mustn't forget the challenges we faced before the pandemic," Solberg observed. "They'll remain. We must continue our efforts to restructure the economy. And we must continue to save the climate. To achieve that, we must become greener, smarter and more innovative.
"We're celebrating today that PTG has done precisely that. With highly competent and dedicated personnel, and more than 40 years of experience in the industry so you know what you're doing. You've built up specialist expertise in cooling and heating seawater – yes, in the value of perfect tempe­rature. All to create ideal conditions for fish."
"Energy is a raw material like other production inputs," says CEO Terje Arnesen at PTG. "In addition to its direct cost, however, energy use also increases the carbon footprint. Our expertise helps to enhance the efficiency of production processes in order to minimise energy consumption and carbon emissions."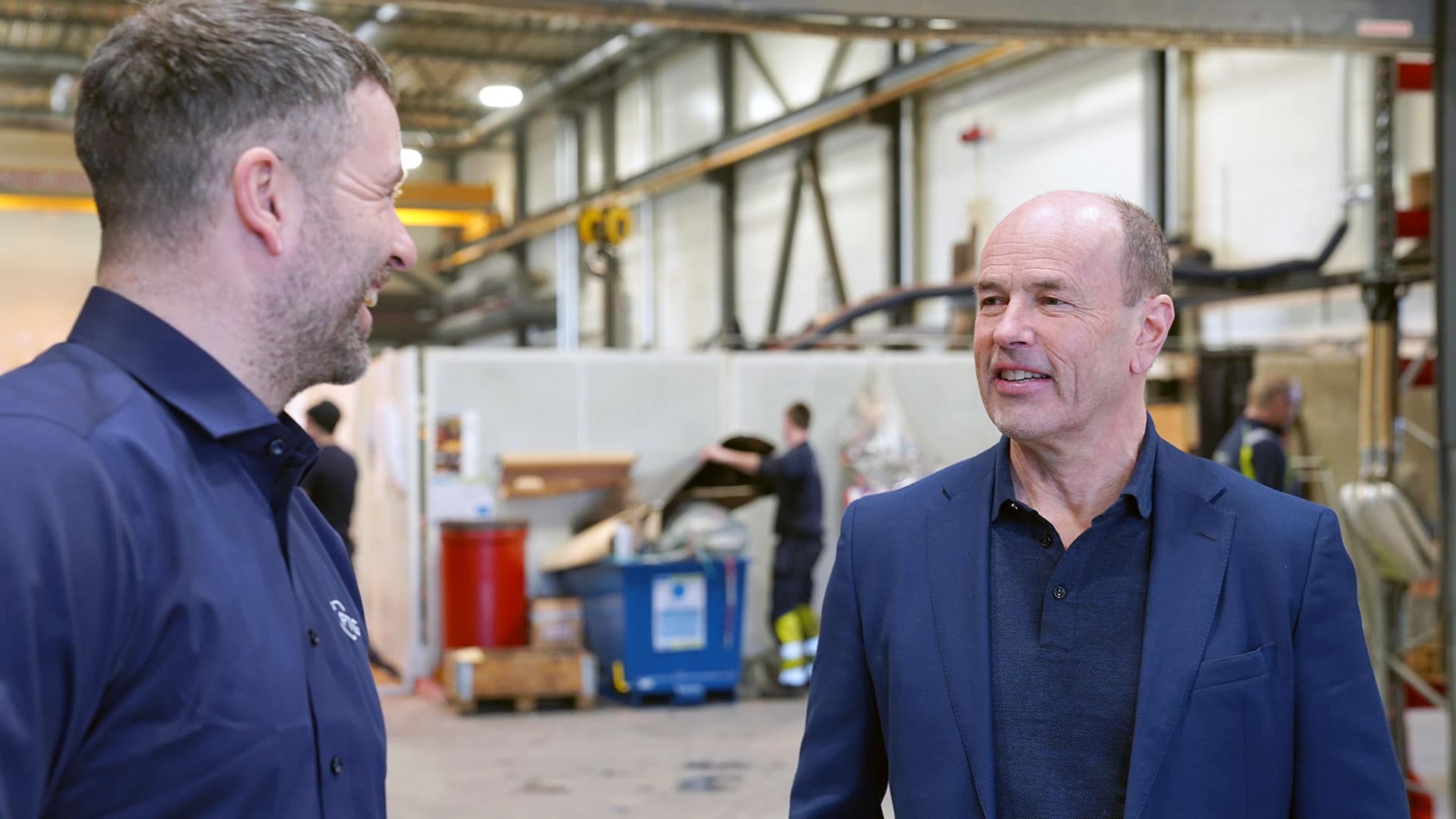 Steinar Dale, production manager at PTG and Terje Arnesen, CEO at PTG.
Modern systems
Its Malme­fjorden plant accounts for large parts of PTG's output. The company has previously invested in a modern machining centre which is already in place in the new premises, and will complement it during the winter with welding robots to help scale up production capacity, enhance efficiency and relieve employees of the most repetitive and heavy jobs.
Arnesen says that the investment in production facilities and high-tech equipment will substantially increase PTG's capacity and efficiency.
"With production in Norway and a nationwide service and expertise network, we meet customer require­ments for quality and delivery precision. As Norway's leading centre of expertise for refri­ge­ration technology, we have a defined concen­tration on helping to reduce energy consumption, improve the climate, enhance food quality and reduce shrinkage – locally and globally."
More than 40 years of experience
"Our delivery to Artec Aqua and Salmon Evolution will allow us to demon­strate our unique technology and more than 40 years of experience in the seafood sector," Arnesen adds.
"Although our physical proximity to Salmon Evolution isn't a decisive consi­de­ration, it's certainly an advantage for it and Artec Aqua to be able to follow up this delivery during the manufacturing phase in a simple manner. We're also nearby if mainte­nance or service are required."