PTG Frionordica in Malme­fjorden has won a contract from Ålesund-based Artec Aqua to supply an energy plant able to deliver 30 kW of heat for each kW of power used. Low energy consumption will help to cut operating costs and the carbon footprint for end customer Salmon Evolution.
The plant will control the tempe­rature of a huge amount of water as part of the first devel­opment stage for Salmon Evolution's land-based fish farm at Indre Harøy in Hustadvika local authority on the west Norwegian coast. Incor­po­rating six large heat pumps, it will be delivered from September 2021 to June 2022.
Heating much water a little
PTG has designed a heat pump and energy plant for a large volume of water and a small tempe­rature rise (from 6°C to 12°C), with an eye to the lowest-possible elect­ricity consumption.
"In colla­bo­ration with able suppliers, we've created a facility with a very high coeffi­cient of perfor­mance [COP]," says Ketil Røberg, PTG's sales and marketing vice president for marine and industry.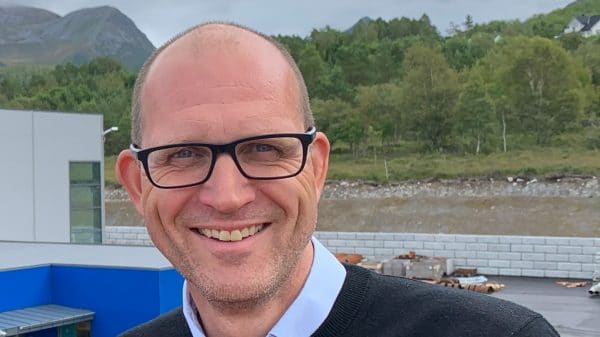 Ketil Røberg, PTG's sales and marketing vice president for marine and industry
Perfect tempe­rature
The first Salmon Evolution construction stage comprise six pairs of tanks able to produce up to 9 000 tonnes of fish per year. Fully developed, the farm will have an annual capacity of 36 000 tonnes.
Each tank pair will be supplied with 40 cubic metres – or 40 000 litres – of water per minute, which must be heated to a perfect tempe­rature by a heat pump with a pipe dimension of 600 milli­metres, or more than half a metre.
"Our energy plant and heat pumps are specially developed for the purpose, and will ensure that the huge volumes of water in the tanks maintain a stable tempe­rature so that the fish thrive and grow," explains Røberg.
Ultra-efficient
Salmon Evolution is using Artec Aqua´s hybrid flow-through technology, which reuses 65 per cent of the water with the remaining 35 per cent supplied as filtered fresh seawater.
"When our technology is combined with water reuse in the way Artec Aqua and Salmon Evolution do in this project, the result is a very inter­e­sting concept for land-based fish farming," says Per Johansen, vice president sales at PTG Frionordica. "Energy consumption is reduced by 30 per cent compared with recir­cu­lation aquaculture systems [RAS].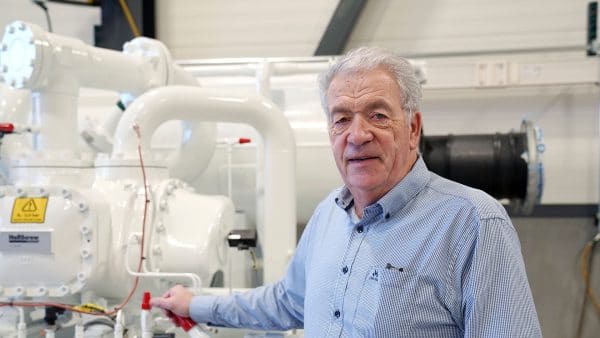 Per Johansen, vice president sales at PTG Frionordica.
"Our heat pumps are ultra-efficient compared with other techno­logies. Each kW of power supplied to compressor and pumps yields 30 kW of heat. Advanced automation and controls also allow us to achieve an even higher COP on part load. That has a big effect on annual consumption, because the plant will run on part load for much of the time."
Reinforced perfor­mance
The heat pumps being delivered to Salmon Evolution have a basic COP of 13. That compares with a very good unit for household use, which usually has a COP of five – in other words, it will produce five kW of heat for each kW of power input.
However, the output of the PTG pumps for the fish farm will also be reinforced by an effluent heat exchanger to yield an input-to-output ratio of no less than 30.
Optimised for growth
Johansen explains that the energy plant has been developed to ensure stable tempe­ra­tures tailored to the various growth phases of the fish.
"The water must be 14°C to start with, and 12°C in the final production phase," he says. "So the biggest of our heat pumps provide the highest tempe­rature at the initial stage, when the salmon are small and the quantity of water in relation to the number of fish is low.
"In the final phase, the smallest pumps ensure the lowest tempe­rature. In that way, the plant is optimised to ensure that energy consumption is highest when growth conditions are at their best."
Low-emission salmon farming on land
"Our choice of technology and strategy in estab­lishing substantial low-emission salmon production on land remains unchanged," says CEO Håkon Andre Berg at Salmon Evolution. "We will contribute even further to reinforcing Norway's position as the world's leading salmon producer."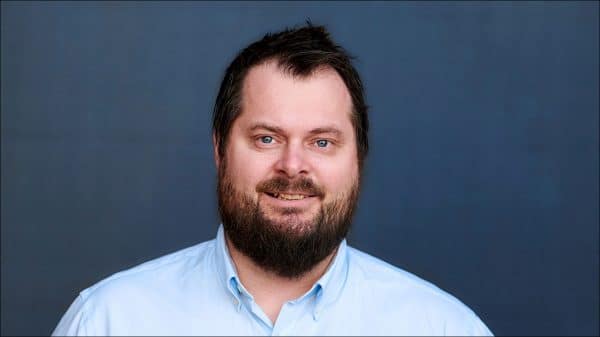 Håkon André Berg, CEO Salmon Evolution.