"The fish must retain its shelf life right to the dinner plate, and not just when it leaves the plant or the Padborg terminal," empha­sises CEO Terje Kjølsøy at Aalesundfisk.
PTG Kulde­teknisk, Lerøy Norway Seafoods, Skrovnesfisk and Arctic Technology have risen to this challenge through a devel­opment project financed by the Norwegian Seafood Research Fund (FHF).
Improving the quality and cooling chain all the way from ship to shop will give the market more stable deliveries of high-grade products and benefit every link in the value chain.
The project has attracted great interest from fishermen, fish buyers and other organi­sa­tions associated with the industry, including seafood exporter Aalesundfisk.
Reduces shrinkage
"In our experience, a higher reserve quality in the fish on arrival extends shelf life and reduces shrinkage in the shop," says Kjølsøy. "More selling time is available before it goes off."
Fish can easily take eight-nine days to reach retailers in Europe's longest value chains, he explains. If its tempe­rature has fluctuated when caught, during processing or in transit, it may go bad too quickly to be sold.
"You've also got to remember that the customer often takes the fish home and generally prepares it a day or two later," Kjølsøy notes.
"The fish may often be kept at 5–7°C in the fridge and, if it only has 0–10 per cent of its quality left when sold by the shop, it'll be inedible by the time cooking begins.
"Good quality must be maintained throughout, not just at the start of the journey from sea to table, or the end user will have a bad experience."
Jens-Einar Bjørkås Johnsen (Skrovnesfisk AS) owns and operates Bjørk­åsbuen, a Cleopatra-type fishing boat built in Iceland. An able fisher in Båtsfjord, he has been presented with the Fisher of the Year award and is one of the suppliers of fish to Lerøy's quality Arctic Supreme brand.
Labour-intensive
Handling catches today on small fishing vessels is very labour-intensive, and fails to ensure the best possible quality. So a solution is needed which simplifies work while ensuring that the fish gets well looked after as quickly as possible.
PTG Kulde­teknisk is in the final stages of installing a small refri­ge­rated seawater (RSW) plant on the 11-metre-long fishing boat Bjørkåsbuen.
This vessel is owned by project partner Jens-Einar Johnsen at Skrovnesfisk, with instal­lation work taking place in his home port of Båtsfjord in northern Norway.
The background for installing this facility is an ongoing FHF project to develop and implement a system for optimal bleeding and cooling of the raw material on coastal fishing vessels.
In addition to simpli­fying work for the fishers, the programme is expected to yield a substantial improvement in catch quality.
"This system will simplify my job and make it more efficient, both before putting out to sea and while I'm fishing," says Johnsen.
"It'll cut out one work operation because I can put fish for bleeding directly into a container instead of going via a separate tub.
"I'll have control over the container tempe­rature, as well as documen­tation of cooling to give the buyer. And, not least, I get more deck space."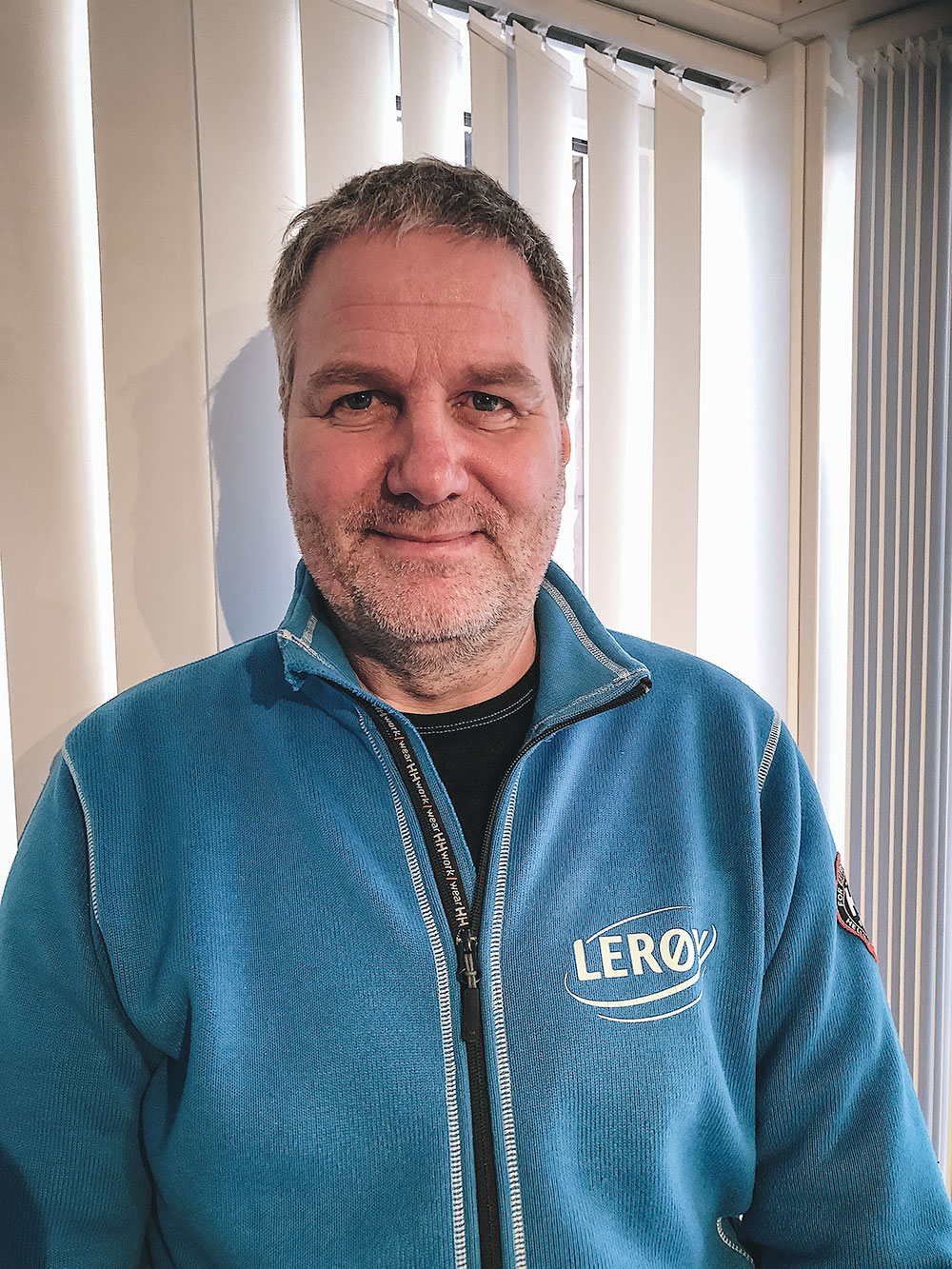 Roy Martin Martinsen (raw-material quality manager, white fish, Lerøy Norway Seafoods AS) is also parti­ci­pating in a number of other FHF projects dealing with raw material quality.
Top condition
"The fish we take from the sea starts off in top condition," points out Roy Martin Martinsen, raw-material quality manager for white fish at Lerøy Norway Seafoods and a parti­cipant in the FHF project.
"Quality and the eating experience begin to be affected as soon as it's caught. Before it reaches land, the catch is exposed to a number of influences.
"Handling, stress and damage can all lead to irrever­sible quality challenges. Storage methods, time and tempe­rature will also have their effect."
He notes that catch quality is immediately influ­enced by the condition of the fish, the physical impact of the fishing gear, catch depth, weather, stress, time and temperature.
Once caught, handling, equipment use, and the gap between coming on board and bleeding affect opport­u­nities for good bleeding-out, tempe­rature and time. So will storage when returning to land and in onward delivery.
Tempe­rature determines
"Durability is parti­cu­larly influ­enced by tempe­rature and time," says Martinsen. "The clock starts ticking at slaughter, and tempe­rature deter­mines how fast it runs – the lower, the slower.
"If the fish is stored between ‑1°C and 0°C, its shelf life can be up to 18 days. At 6°C, this is reduced to no more than seven days."
He says research has suggested that a higher tempe­rature on the first post-catch day could cost four days of shelf life, even if the fish are cooled down quickly after 24 hours.
"It's important to remember that fish are adapted to low tempe­ra­tures, as are enzymatic changes and bacterial breakdown. So it's important to bleed them out immediately after coming on board and then store at ‑1°C to 0°C."
Full-scale testing
Work in the FHF project has concen­trated so far on the choosing the solution of a small RSW plant for use on board. Simula­tions were first tested on a larger facility to check throughflow and energy requirements.
PTG Kulde­teknisk has built and lab-tested a compact little RSW plant at its Tromsø works. Once instal­lation in Bjørk­åsbuen is complete, the system will be tested and fine-tuned before undergoing full winter-spring trials after New Year.
The idea behind the project is that a fishing boat can eliminate an open tub on deck, and instead bleed out the fish in a container at the same time as cooling begins immediately.
Designed for plug-and-play, the equipment requires no complex instal­lation and can be easily discon­nected by the fisher for service/fault correction.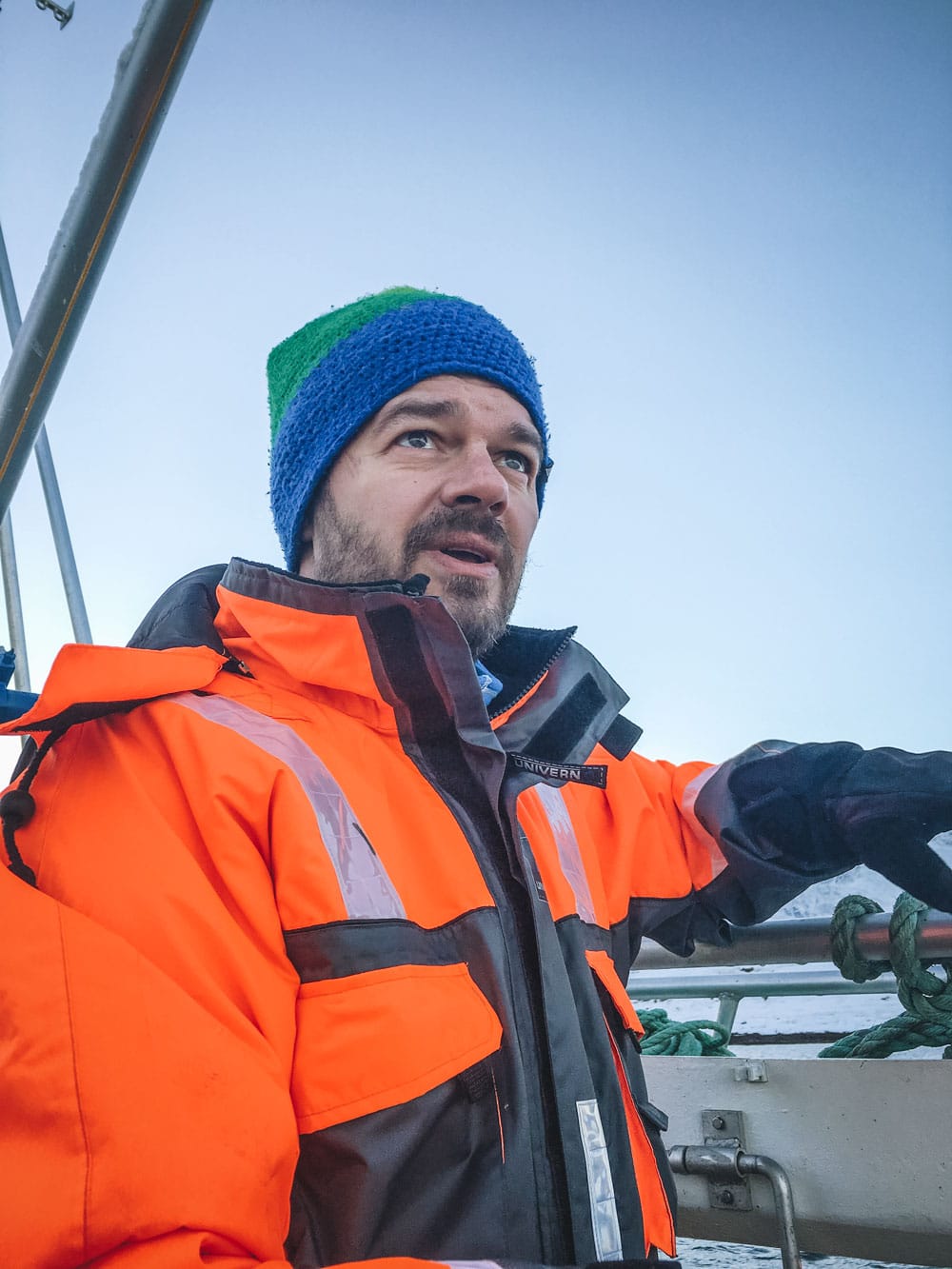 Kim André Gabri­elsen (Arctic Technology AS) is manager for the project. He has experience from various roles on the land side in the seafood industry, but has also been a fisher with his own boat. His education as a process engineer and food technician covers both the biolo­gical and the technical factors which affect his daily work as a supporter of companies in the blue economy.