Trade and industry minister Jan Christian Vestre was warmly welcomed to PTG on 8 November. From left: Liv Mona Arntzen, human resources and quality assurance head, PTG, the minister, Ola T P Landsverk, head of the PTG school, Frode Berg, PTG's technical head/CTO, and PTG chair Anders Høifødt. Photo: PTG
The green shift, salmon tax and strengt­hening vocational education were in the spotlight when Jan Christian Vestre, minister of trade and industry, visited PTG's factory in Tromsø on 8 November. The Labour Party politician received important input on these and other issues from the air conditioning and refri­ge­ration specialist.
PTG — the Perfect Tempe­rature Group — has its head office in Tromsø, but comprises a nationwide and now inter­na­tional team of cooling and refri­ge­ration specia­lists. Its business model is about reducing green­house gas emissions and making energy consumption more efficient.
Vestre paid a visit to PTG following his parti­ci­pation at the Agenda North Norway meeting. Before the meeting, his ministry had already been showing interest in the group's contri­bution to the green transition.
Production in Norway
"Our 272 employees pursue the green shift every day in practice by advising, installing and providing service for private and public customers who want to adopt more environment-friendly cooling and refri­ge­ration technology," said PTG chair Anders Høifødt during the visit.
Set to exceed a turnover of NOK 900 million this year, the group is bucking the trend by manufacturing environment-friendly technology in Tromsø and Molde. That interested Vestre very much, and national value creation quickly became a topic.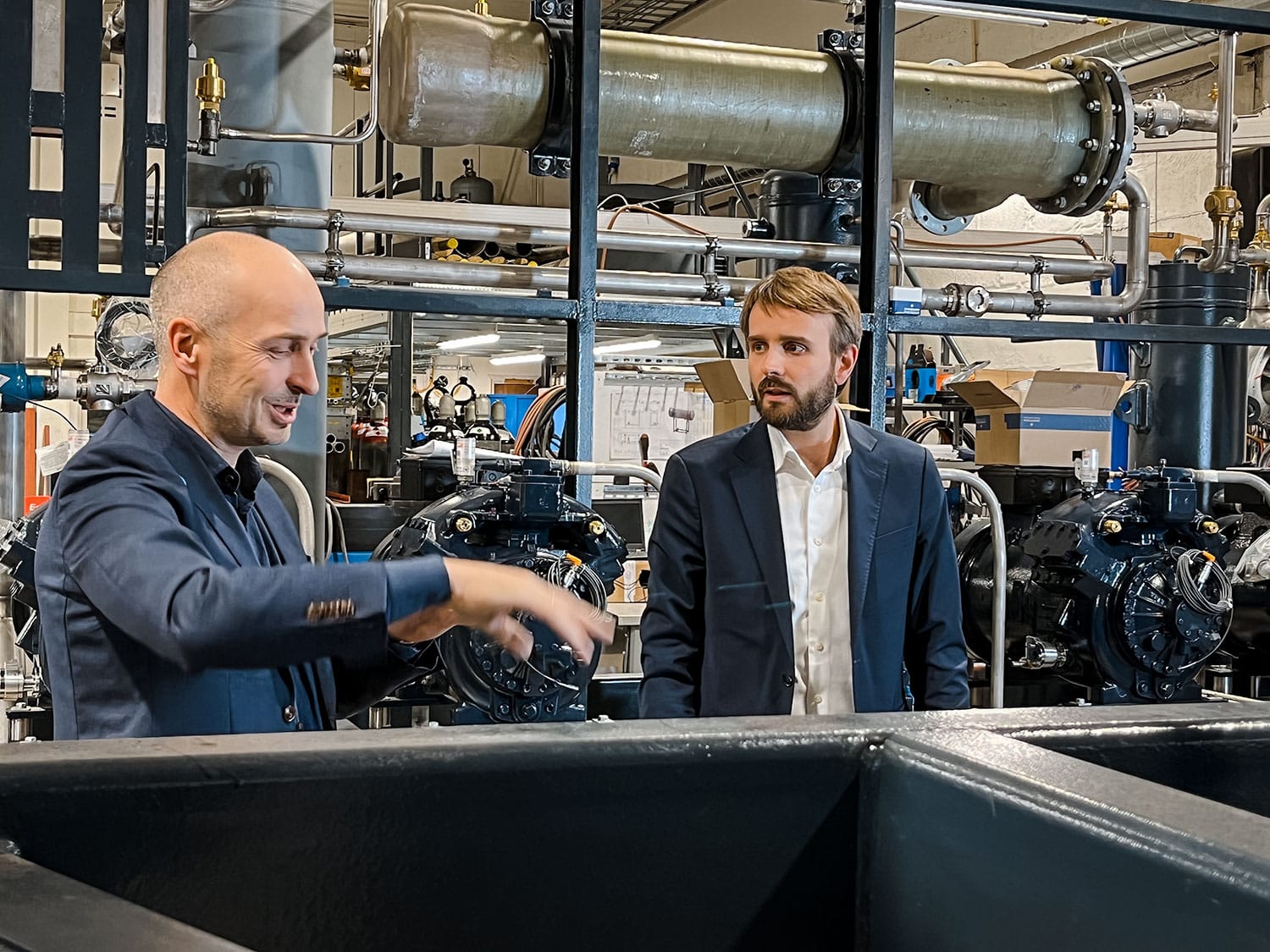 Technical head Frode Berg briefs trade and industry minister Jan Christian Vestre about PTG's manufacturing activities in Tromsø. Photo: PTG
"We produce by and large all our systems in-house to meet the quality required by our customers," explained Frode Berg, technical head at PTG. "That means we constantly learn and improve, we develop and retain internal expertise, and we strengthen our drive and competitiveness."
Worrying salmon tax
During his guided tour of PTG's production facilities in Tromsø, Vestre also learnt of the group's concern about the resource rent tax on the aquaculture sector being intro­duced by the government.
About 60 per cent of revenues at PTG derive from fish farming and fishing-related industry, and it has clearly seen that the tax proposal is also affecting the willingness to invest in green solutions.
"We expect to experience continued growth," Høifødt told an attentive minister. "Before the news broke about the resource rent tax, we were consi­dering an expansion in capacity at our Malme­fjorden factory."
"But the planned tax increase has created great uncer­tainty about the ability to invest in the aquaculture sector, associated industries and local coastal commu­nities. That's why we must now unfor­tu­nately reassess our own capital spending and expansion."
Strengt­hening vocational training
Another major challenge PTG shared with Vestre was the availa­bility of skilled employees. The group, which has recruited more than 100 new personnel since 2020, maintains that the commitment to vocational training at upper secondary level in Norway is inadequate.
"We find that vocational courses are being dropped for financial reasons based on the number of appli­cants alone," explained Berg. "The refri­ge­ration sector is suffering as a result. Although the companies involved are small when viewed in isolation, they play an important role in the overall picture. Norway would be unable to export a single fish without us, for example."
His comments received support from Liv Mona Arntzen, PTG's human resources and quality assurance head.
"Such short-term financial consi­de­ra­tions hit compe­ti­ti­veness, both here and for the nation," she told Vestre. "We therefore want a closer colla­bo­ration between industry, county councils and central government in planning tomorrow's educa­tional provision. The aim is to highlight the industry's prospects and educate the skilled personnel required by the labour market."
Estab­lishing own school
Where PTG is concerned, the primary craftsmen involved are refri­ge­ration and heating techni­cians. The group currently has 22 appren­tices and recently concen­trated training activities in its own in-house school. This aims to entrench expertise enhan­cement all the way from apprentice to engineer in the industry's own challenges.
Ola T P Landsverk, who has been appointed to head the PTG school, told Vestre that much is to be gained by thinking both diversity in recruitment and internal expertise development.
"We're inspired by the way apprentice masters traditio­nally took respon­s­i­bility for their trainees," he explained. "They shared not only their knowledge, but also their skills, experience and valuable reflections."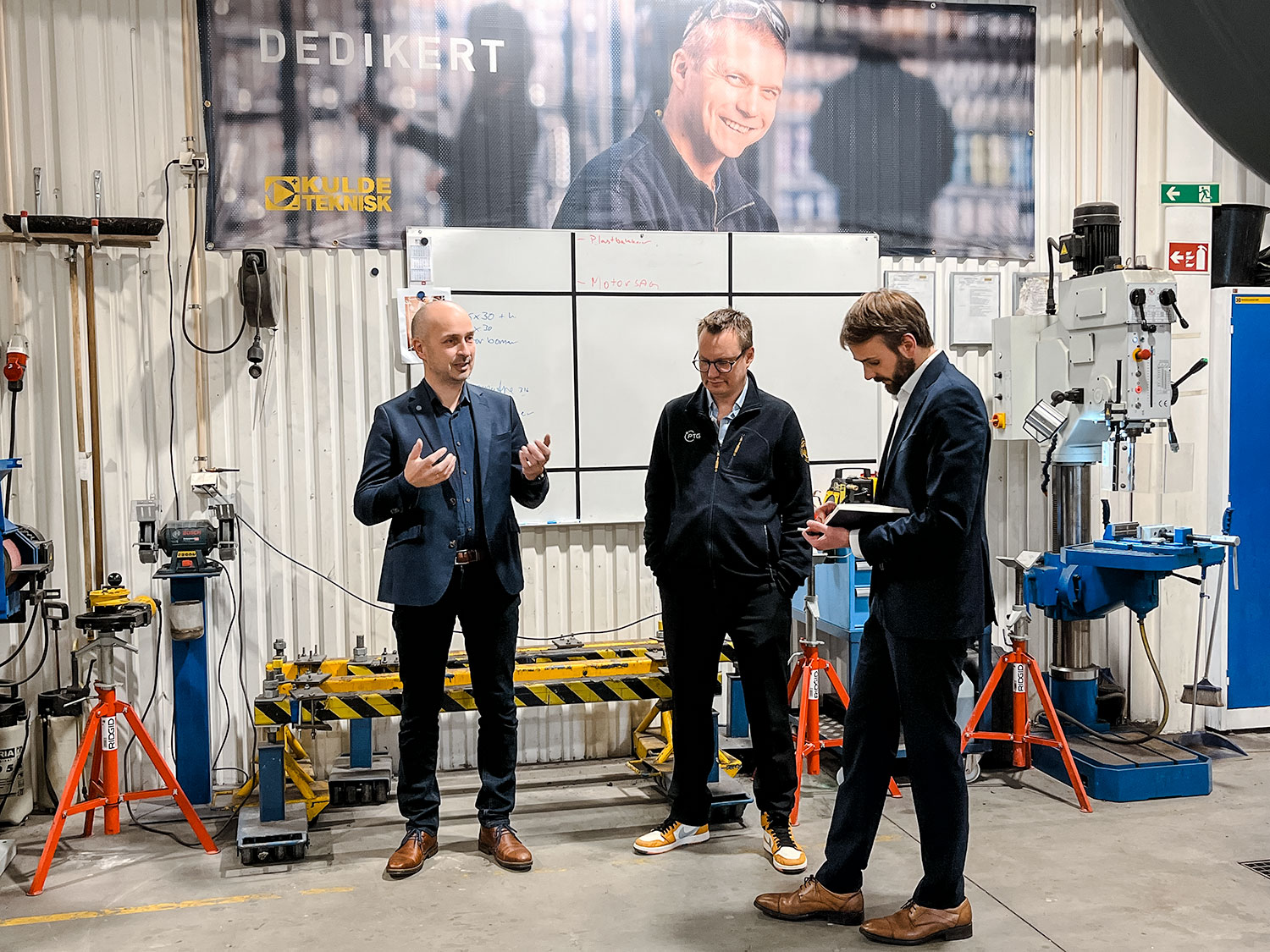 Trade and industry minister Jan Christian Vestre atten­tively took notes while technical head Frode Berg and chair Anders Høifødt explained PTG's business in Norway. Photo: PTG