Thumbs up – a gratified gang from PTG after the first heat pump has been positioned at Salmon Evolution on Indre Harøy in Hustadvika local authority, which is scheduled to become one of Europe's largest fish farms. From left: Vikingur Vignisson, Bjørnar Eikrem, Karl Håkon Skarsbø, Roy Kjørsvik and Steinar Dale.
PTG deployed its whole team in devel­oping the largest and most efficient heat pump it has so far manufactured. The first of six such units is now in place for the first construction stage of Salmon Evolution's new land-based salmon farm in western Norway.
"This heat pump and energy plant means we can heat the water with the minimum of power input," says Arild Vikan, Salmon Evolution's project manager. "It's so efficient that, taking the energy plant as a whole, we get 30 kilowatts back for each kilowatt we put in – and that makes this a good investment."
He was speaking as the heat pump arrived at the facility being built for Salmon Evolution by Artec Aqua at Indre Harøy in Hustadvika local authority.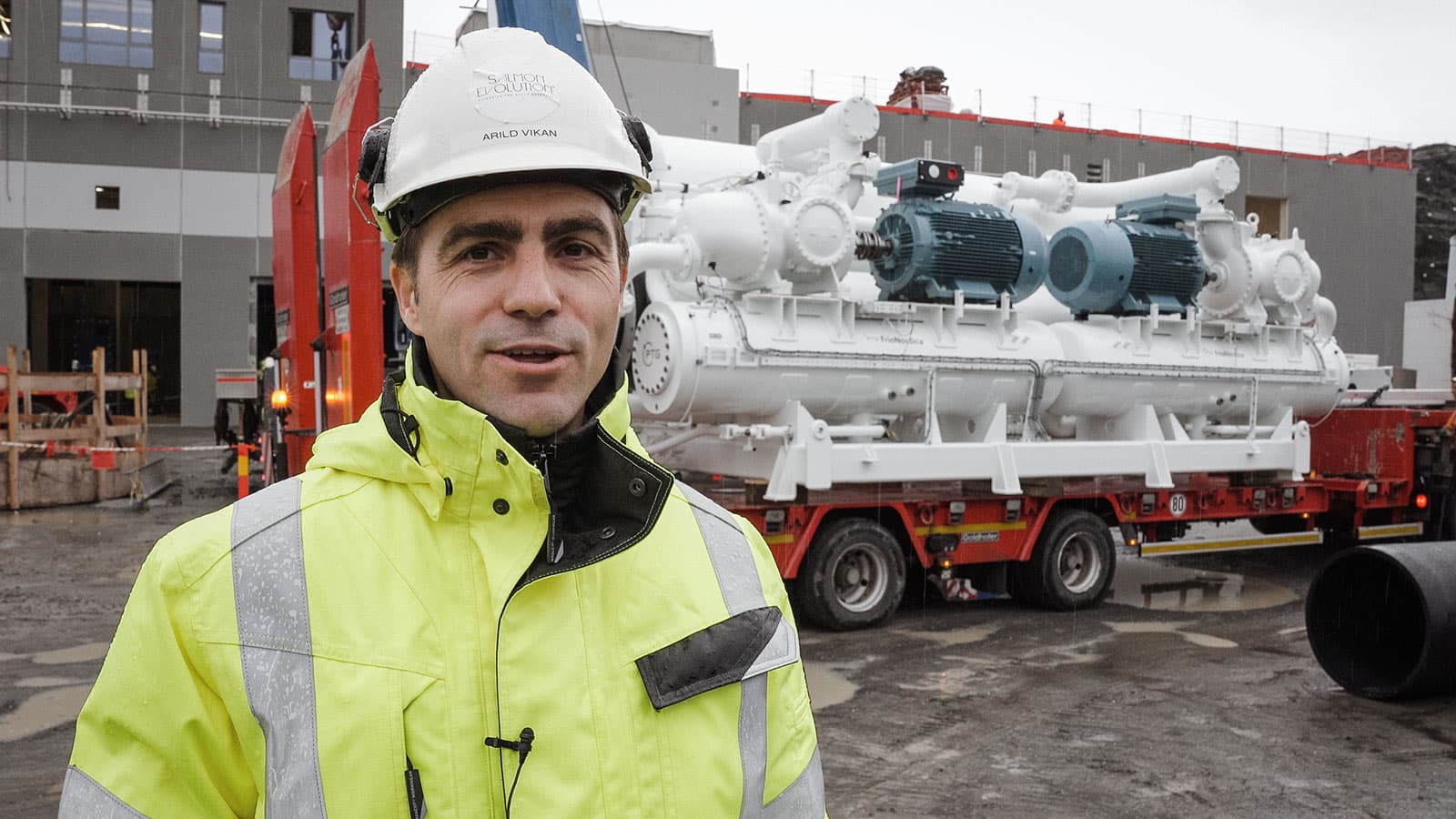 Arild Vikan, Salmon Evolution's project manager.
PTG's delivery has been developed to ensure stable tempe­ra­tures tailored to the various growth phases of the fish. The water must maintain 14°C in the first stage and 12°C in the final phase.
Vikan reports that the energy plant is a central component in the land-based farm.
"It will ensure a perfect tempe­rature in each tank, which contains 5 000 m³ of water. The fish will then thrive, grow and do well. The ability to heat large volumes of water with a limited energy input reduces our climate footprint, and it pays to farm fish in this way."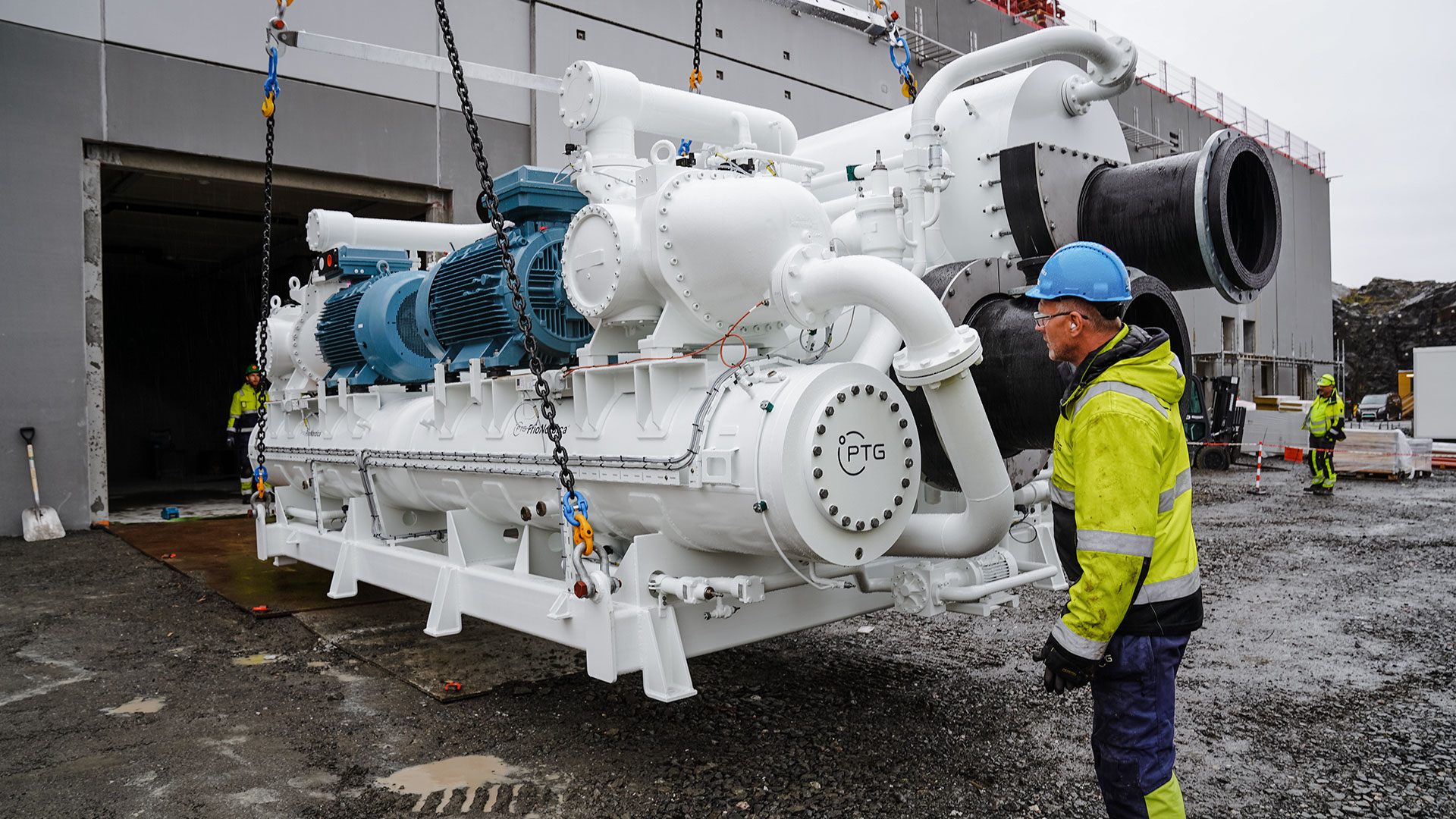 Bjørnar Eikrem keeps a close eye on the first heat pump to ensure that it ends up in the right place. It and five others being supplied from PTG's Malme­fjorden factory to the Salmon Evolution farm are more than twice as large as earlier units of this kind from the company. The first to be delivered measures seven metres long, three wide and three high. Output from the largest heat pump previously delivered by PTG is 2 500 kW, while this gives up to 6 000 kW.
Big for PTG
Activity in the PTG production shop in Malme­fjorden has been hectic in recent weeks. Everything was finally ready on 10 September 2021 to load out the first pump from the factory, which also lies in Hustadvika local authority.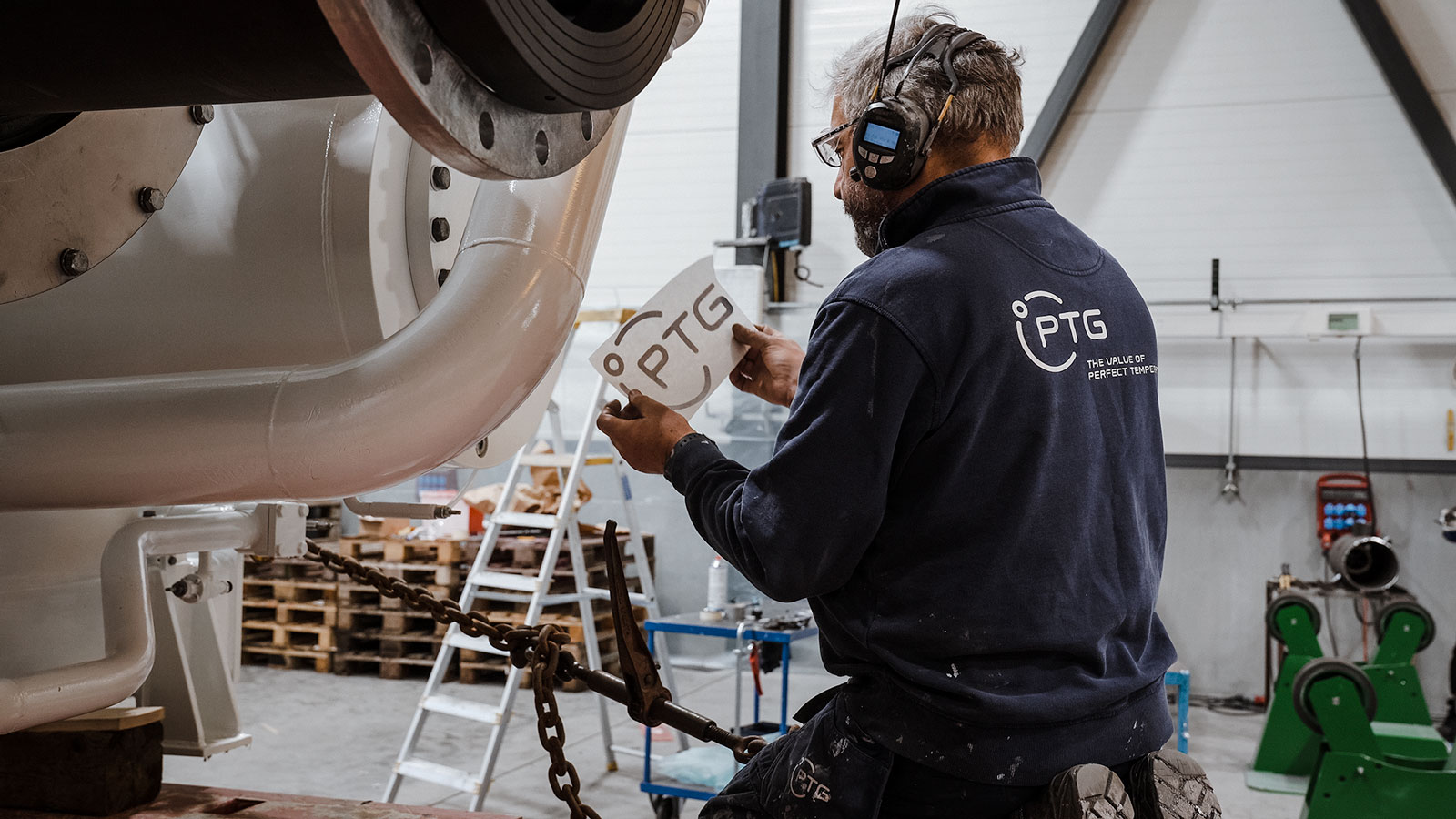 Mariusz Slomianny puts the finishing touches to the heat pump before it is driven out of PTG Frionordica in Malmefjorden.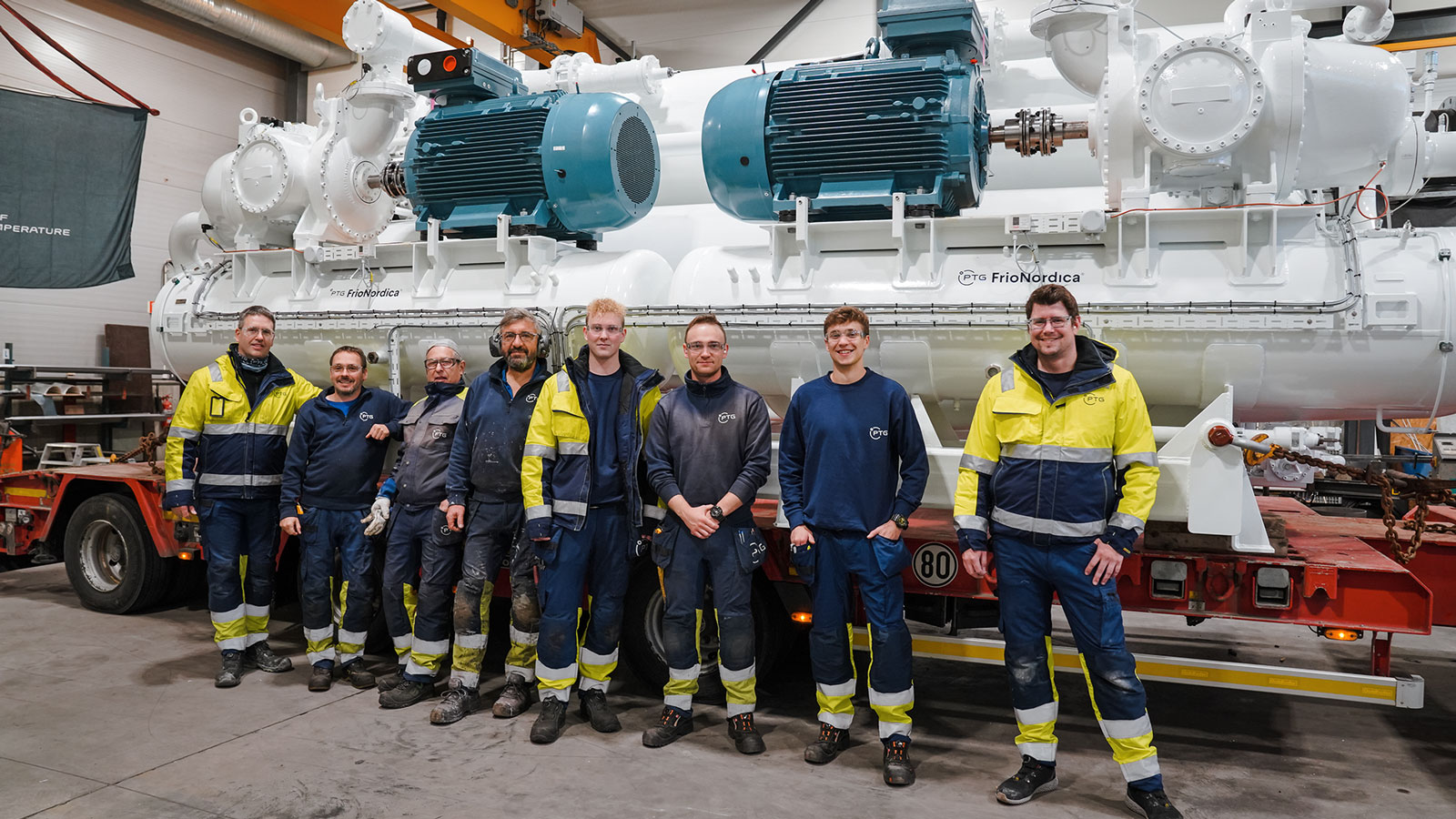 "Everyone you see here in the workshop has taken part – the whole team," says PTG production manager Steinar Dale. "And all the people in the offices throughout PTG. It's been a completely fantastic experience to see that we've succeeded in creating something new once again, in a product series which is already fantastic." Dale is at far left above, together with Stian Halle, Bogdan Siewiora, Mariusz Slomianny, Jon Erik Bjølstad, Thor Christian Dale, Jacub Binkowski and Karl Håkon Skarsbø.
The heat pumps for Salmon Evolution are more than twice the size of similar units delivered by PTG. Production manager Steinar Dale was expectant and excited when the first in the series was being prepared for road transport by low-loader to the land-based fish farm at Indre Harøy.
"It's just within the dimensions which make road transport possible with an escort vehicle," he explains. "This unit is not only twice the size, but also delivers double the output compared with our earlier heat pumps. Five-six megawatts is massive, so being able to achieve that is incre­dible for us."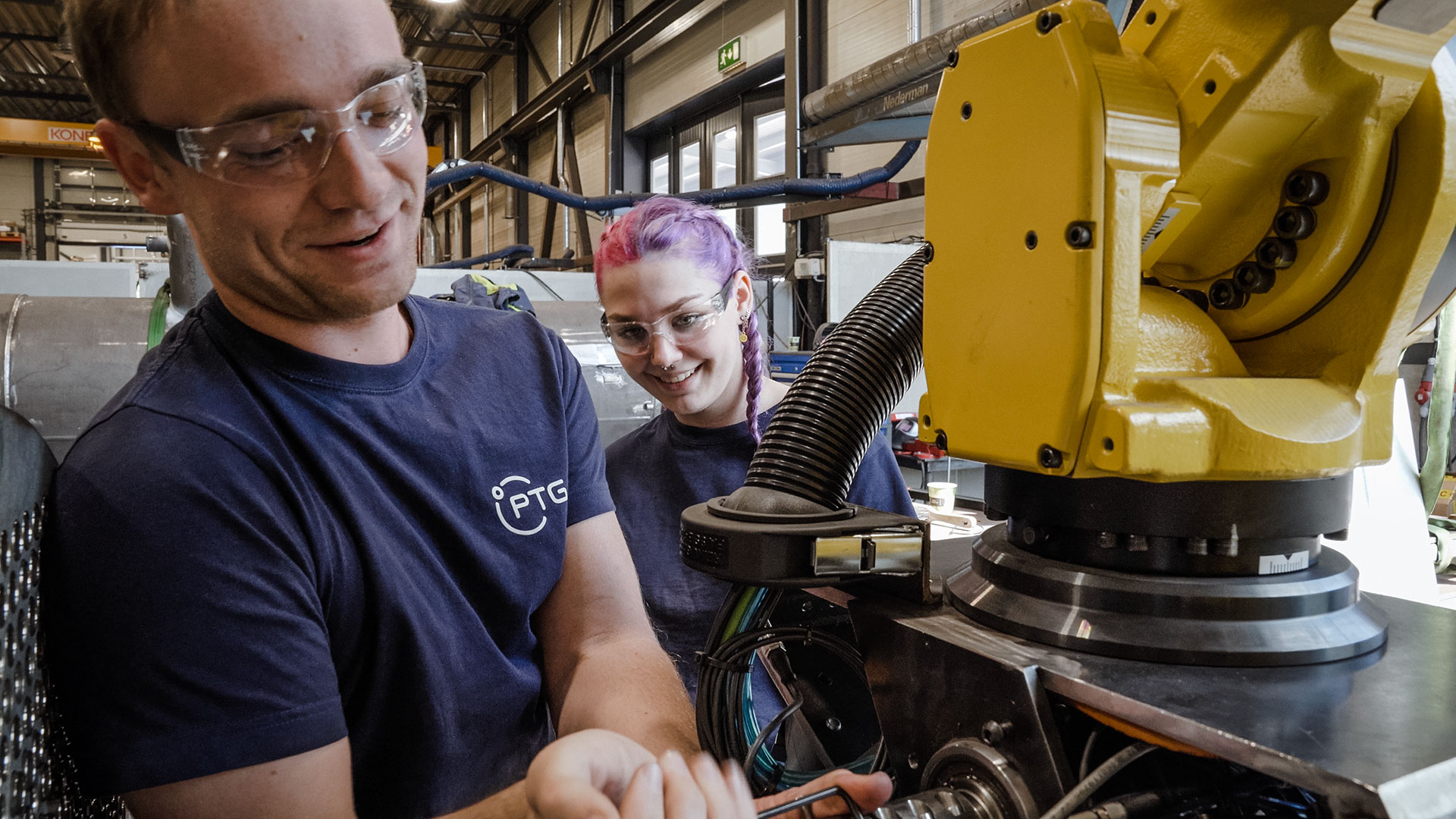 Christian Dale and Naima Lervik prepare one of the production robots at the Malme­fjorden plant. With production in Norway and an extensive service network, PTG has brought together some of the country's best companies in the tempe­rature management sector. Production at PTG Frionordica in Malme­fjorden includes heat pumps and refri­ge­rated seawater (RSW) plants for fishing and aquaculture.
Honing its skills
The enquiry from Salmon Evolution gave PTG something to hone its skills on. In addition to being very large, the heat pumps call for optimal perfor­mance over a small tempe­rature increase.
"We therefore designed a heat pump and energy plant for large volumes of water and a tempe­rature rise as narrow as from 6°C to 12°C," explains Per Johansen, who is retiring from the job of sales manager at PTG Frionordica.
"That's extremely efficient compared with other heat-pump techno­logies. For each kW of power input to compressor and pumps, we get out 30 kW of heat."
"Compressors available on the market today haven't been confi­gured for such a perfor­mance, but our supplier has produced a specially adapted unit which means that we can use little energy to achieve the right temperature."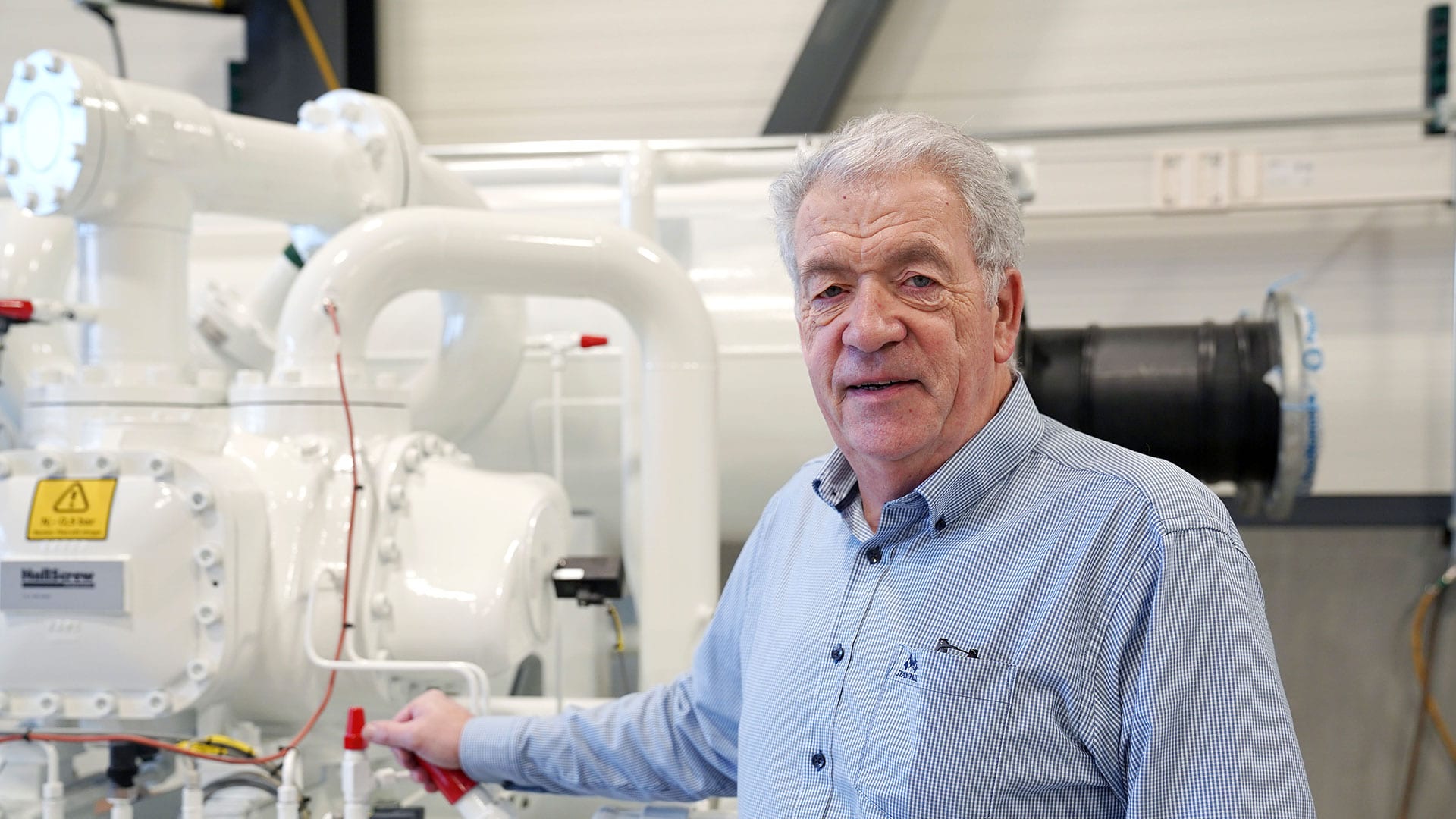 "Progress has been massive," says Per Johansen, retiring sales manager at PTG Frionordica. "It's a big leap from the first heat pumps with an output of 60–70 kW which I helped to build more than 40 years ago to the Salmon Evolution units of 5 000 and 6 000 kW."
Johansen has helped to build up this part of PTG and has seen fantastic advances in both product and quality for the fishing and aquaculture sector.
"Progress has been massive," he observes. "With the heat-pump delivery to Salmon Evolution, I've managed to pass a major milestone before retiring. It's a big leap from the first heat pumps with an output of 60–70 kW which I helped to build more than 40 years ago to the Salmon Evolution units of 5 000 and 6 000 kW."
Local value creation
The previously abandoned quarry on the edge of the sea at Indre Harøy has reawa­kened. With big tanks and buildings under construction, the site is being trans­formed into a new and modern industrial adventure. As early as March 2022, the first tank is due to be filled with salmon in what will eventually become one of Europe's largest fish farms on land.
PTG's delivery to Salmon Evolution – via Artec Aqua, the Ålesund-based turnkey contractor – is a good example of customer-driven innovation in a world-leading Norwegian maritime cluster. A number of companies from western Norway are making deliveries to the project.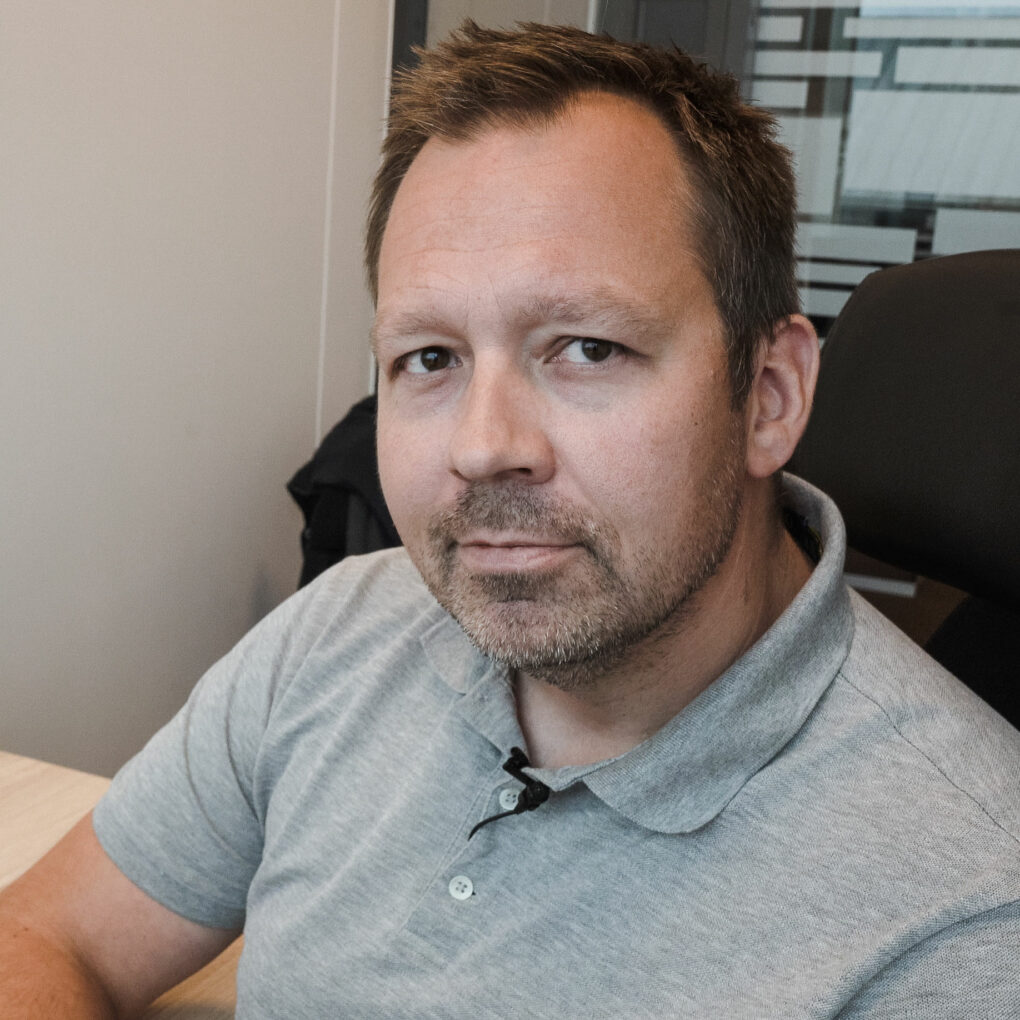 Taken advantage of everything
Project manager Ole Gunnar Lyngstad at Artec Aqua reports that the company is very pleased to have installed the first of the six heat pumps for the first construction stage at Indre Harøy.
"This is a very central delivery for the farm," he says. "In addition to the heat pump, it comprises two plate heat exchangers to warm fresh water using the waste water being disch­arged from the tanks. That ensures a stable tempe­rature for the fish throughout the year, while keeping our power consumption to a minimum."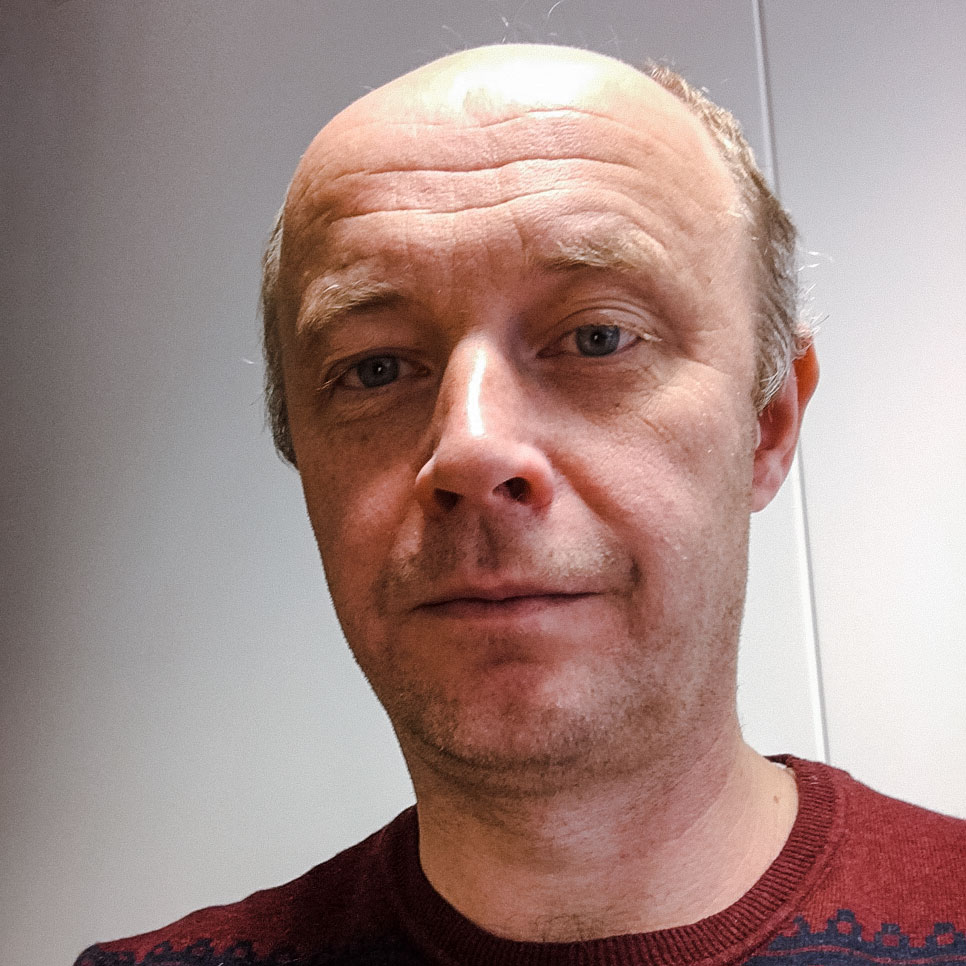 Sales manager Jarle Nedal at PTG Frionordica has been closely involved with the devel­opment since the company was given the challenge. He says that it has been a very exciting process up to the point where the first heat pump is now in place.
"It's been inspiring and inter­e­sting, and we've taken advantage of everything we've experi­enced and know about tempe­rature management in order to meet the target. We're very proud of what we've delivered and the mark we've made in the market."