Illust­ration of SalMars prestige project InnovaNor in Lenvik, Troms.
PTG Frionordica is to supply ice systems worth several million kroner to SalMar's prestige InnovaNor project at Lenvik in Troms county. Now under construction, this will be northern Norway's largest and most modern salmon harve­sting and processing facility.
"We're very gratified that SalMar has chosen our Finsam ice systems for one of the world's most advanced plants in this field," says Per Johansen, vice president sales at PTG Frionordica.
The company will deliver machines to produce 150 tonnes of ice per day, a double ice-store for twice 40 tonnes, and an ice crusher and mixing tank for ice slurry which can be pumped to the consumer points. Ice transport to the dosing systems in the production plant is included.
Capacity InnovaNor will have an annual capacity of 70 000 tonnes of salmon and plans call for it to be ready in mid-2021. SalMar is investing more than NOK 1 billion in this facility, which lies in Klubben business park. Both Klubben and Lenvik are part of the new Senja local authority.
Positive "This project confirms our big faith in Troms and Senja," says Frode Arntsen, executive vice president for industry and sales at SalMar. "We've stepped forward here and are building a plant which will have positive spin-offs for the local community over many decades to come.
"When the facility is ready, the region will acquire a ground­breaking site for landing salmon, with a harve­sting and processing department featuring the very latest technology and production equipment."
Standards SalMar has given emphasis to securing a large-capacity ice plant and has specified stringent standards for hygiene, high production relia­bility and redun­dancy, and frequent ice delivery to many dosing points working at a high pace.
PTG is building on its experience from a similar delivery to SalMar in Frøya during 2009, reports Johansen. "We take this repeat order as a sign that the customer is pleased with us and the equipment we delivered then. Product devel­opment has continued since that time, parti­cu­larly with regard to better hygiene and cleaning friendliness."
Well-tests PTG's Finsam ice systems represent well-tested technology and have a high reputation in the inter­na­tional seafood market, covering such products as contai­nerised ice plants, ice machines and ice slurry production.
The ice plant for SalMar will be produced and installed through a close colla­bo­ration between PTG's depart­ments at Malme­fjorden in Hustadvika local authority north of Molde (project management and production, start-up), Grimstad (control systems) and Finnsnes (instal­lation and service).
In addition to the ice plant order, PTG will be delivering heat exchangers and seawater-cooled condensers in titanium to the InnovaNor project through Johnson Controls, the contractor for cooling and freezing.
While the heat exchangers will be used for pre-cooling of salmon in cold seawater when they enter the plant, the condensers are intended to remove all heat from the refri­ge­ration plants.
"As Norway's largest centre of expertise in tempe­rature management, not least through our Finnsnes service department, we're well equipped to support SalMar and other companies in Senja who're dependent on a perfect tempe­rature for their production," says Johansen.
Virus Like all other enter­prises in Norway at the moment, PTG is working to reduce the risk associated with the coronavirus.
"We don't expect the virus to affect progress with this delivery, since production at Malme­fjorden will take place in October-November this year," observes Ketil Røberg, sales and marketing vice-president for marine and industry at PTG.
"In addition, we're engaged in a close dialogue with all our suppliers, and are identi­fying alter­na­tives if any of them should be prevented from delivering as expected.
"We are observing the government's recom­men­da­tions, and taking all necessary precau­tions for ensuring that our own employees are not exposed to infection or have to go into quarantine."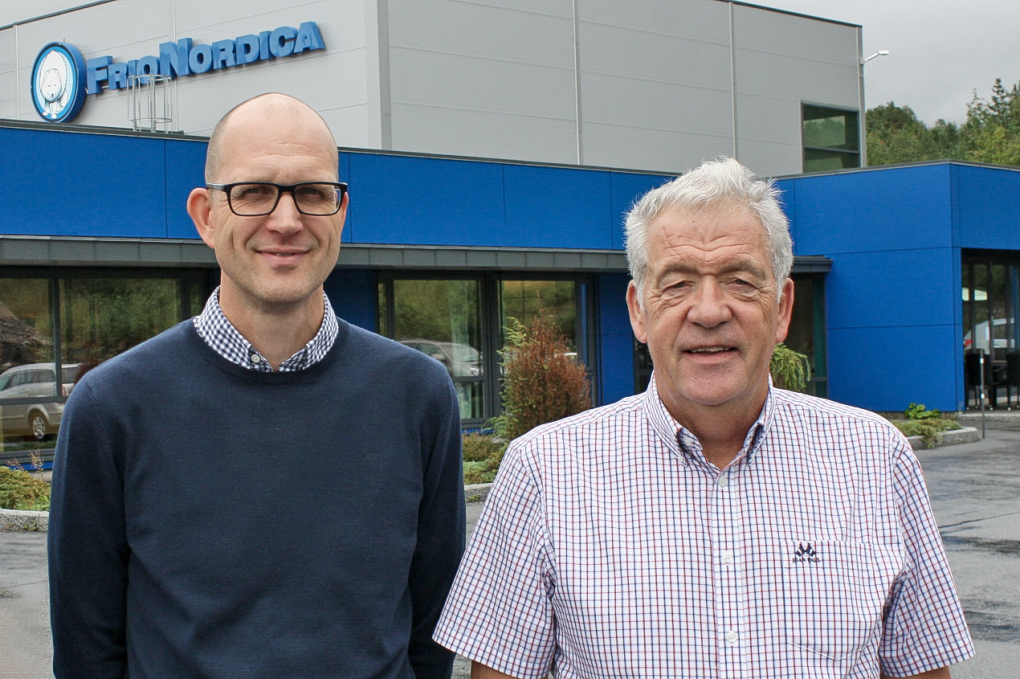 Ketil Røberg, Vice President of Sales and Marketing for marine industry in PTG, and Per Johansen, Vice President of Sales in PTG Frionordica.