Picture. To the left: Anders Høifødt, founders Per R. Samuelsen and Per Johansen in FrioNordica. To the right; Frode Berg, technical director and one of the founders of Kuldeteknisk.
A leading manufacturer of refri­ge­ration systems, FrioNordica has its head office and production facilities at Malme­fjorden north of Molde, with a branch in Grimstad and a subsi­diary in Chile.
Tromsø-based Kulde­teknisk is the leading service company for refri­ge­ration instal­la­tions in northern Norway, and ranks as a substantial provider of refri­ge­ration and freezing solutions for land-based industry and the maritime sector.
"Collectively, FrioNordica and Kulde­teknisk offer a complete product portfolio tailored to a constantly growing inter­na­tional seafood market," comments partner Anders Høifødt in Nord Kapital­for­valtning, which is the principal share­holder in PTG.
"With FrioNordica, we are acquiring a clearer presence in western Norway and will strengthen our position inter­na­tio­nally. We're also building a leading devel­opment team able to create tomorrow's solutions for the seafood industry."
Environment-friendly and efficient
PTG already owns Kulde­teknisk, one of Norway's largest refri­ge­ration contractors. Earlier this year, PTG also became part-owner of Kjøle­service Helgeland AS and estab­lished Kulde­teknisk Vest AS in Bergen.
"The world's population is growing, and the need for healthy protein is driving an ever-hotter seafood market," observes Høifødt. "That creates a growing demand for efficient refri­ge­ration and freezing solutions both on land and at sea. Together with FrioNordica, we'll be a complete and independent supplier with a focus on environment-friendly solutions."
Kulde­teknisk is known for its innovative SeaCool refri­ge­rated seawater (RSW) facility and Super­Freeze solution. With Frionordica's RSW units up to 2 500 kW, heat pumps and Finsam ice systems, PTG covers a complete range of refri­ge­ration, freezing and heat-pump products.
Inter­na­tional demand and complete value chain
"FrioNordica occupies a strong position in the seafood sector in Norway, South America and Europe, and will thereby help to strengthen the inter­na­tio­na­li­sation of PTG," says Høifødt. "We'll have solutions for both large and small instal­la­tions in these markets, as well as a big service network in Norway and abroad.
"Inter­na­tio­nally, the coastal and ocean-going fishing fleet faces major upgrades, where refri­ge­ration and freezing technology will be crucial for preserving fish quality. Extensive expansion is taking place in the aquaculture sector, but depends on new techno­lo­gical solutions for handling fish welfare, health and quality in order to build further capacity. This opens opport­u­nities for our refri­ge­ration and heat technology."
Key personnel reinvesting
Some of the share­holders in FrioNordica are reinvesting and will become PTG share­holders. That includes founders Per Johansen and Per R Samuelsen.
"We look forward to becoming part of an even large specialist environment and to contri­buting to further growth for PTG," says CEO Ketil Røberg at FrioNordica.
Pareto Securities has supported the FrioNordica owners in connection with the sale of the company.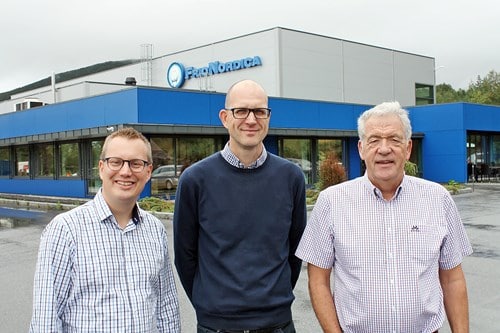 Picture. At FrioNor­dica's modern production facilities in Malme­fjorden: From left; Anders Høifødt in Perfect Tempe­rature Group, Ketil Røberg and Per Johansen in FrioNordica.
FrioNordica in brief
FrioNordica is an industrial refri­ge­ration specialist with long experience from fishing, fish processing and aquaculture. Its head office is at Malme­fjorden in western Norway, with a branch in Grimstad and a subsi­diary in Chile. The company has specia­lised in refri­ge­rating and heating seawater, heat pumps, ice machines and ice plants. It develops and manufactures its own solutions, and delivers to large parts of the world.
More than 500 RSW deliveries
FrioNordica's biggest market has so far been refri­ge­rated seawater (RSW) systems, and it has delivered about 500 such instal­la­tions over the past 25 years. Their capacity has steadily increased, right up to 2 500 kW, but most deliveries have been in the 500–1 500 kW range. The company makes extensive use of ammonia (NH3), a natural refri­gerant which is an ideal medium for large industrial facilities.
By compa­rison, Kulde­teknisk has acquired a strong position with the coastal fishing fleet and aquaculture in recent years with its CO2-based SeaCool RSW systems in the capacity range up to 600 kW. These two companies will give PTG a complete range of forward-looking RSW solutions based on the natural refri­gerants NH3 and CO2.
Strong on automation
Both FrioNordica and Kulde­teknisk have highly qualified automation engineers who develop control systems for starting up, monitoring and remote monitoring of refri­ge­ration systems and for fault-seeking with such facilities. Full digital control ensures the perfect tempe­rature throughout the customer's value chain.
Kulde­teknisk in brief
Kulde­teknisk is one of Norway's largest contractors for refri­ge­ration technology solutions. Its vision is to be a leader for sustai­nable tempe­rature management, and it aims to be the most competent and dedicated Norwegian refri­ge­ration technology specialist. The company develops and delivers instal­la­tions and services which satisfy customer needs for perfect temperatures.
Nord Kapital­for­valtning in brief
Nord Kapital­for­valtning manages a private equity fund which invests in estab­lished enter­prises origi­nating in northern Norway and which have inter­na­tional growth potential. It manages the Nord II fund with a capital base of NOK 431 million, where state-owned Argentum and France's Rothschild Merchant Bank are corner­stone investors.