When Mikael Andersen from Steigen recently stepped down as CEO of refri­ge­ration technology specialist PTG Multi Kulde, another native of the same local authority near Bodø was ready to step in. "Bodø wouldn't have been what it is without Steigeners," chuckles Odd Eirik Nikolaisen, who took charge of the company's 18 employees on 1 August.
Building stone by stone
The Perfect Tempe­rature Group (PTG) develops and delivers environment-friendly refri­ge­ration, freezing and energy-efficiency solutions. One of Norway's fastest-growing enter­prises in its segment, it currently has 220 employees at 15 domestic locations as well as subsi­diaries in Chile and Scotland.
PTG is a substantial supplier to the retail sector in northern Norway as well as the seafood industry natio­nally and inter­na­tio­nally. It has been present in Bodø since 2019, but the history of the company previously known as Multi Kulde extends much further back.
"It began when four of us estab­lished the Kulde­service company in Bodø in 1999," says Andersen. "We've built stone by stone since then. From a turnover of NOK 5 million in our first full operating year, we've now passed NOK 40 million."
Compe­titors for 15 years
Kulde­service became Multi Kulde, and later acquired Bogen Kjøle­service – which was owned and led by Nikolaisen. After 15 years as compe­titors, these two Steigeners joined forces to secure a stronger position in the market.
"The smaller you are, the harder it is to stand along in these times," explains Nikolaisen. "That's also why we decided in 2019 to sell to PTG. I knew Mikael not least from my early years in Steigen, but nevert­heless wondered what it would be like to work with him. It only took a couple of weeks from joining forces for me to feel that we'd found the right tone and a good division of roles. This was quite simply a very good match."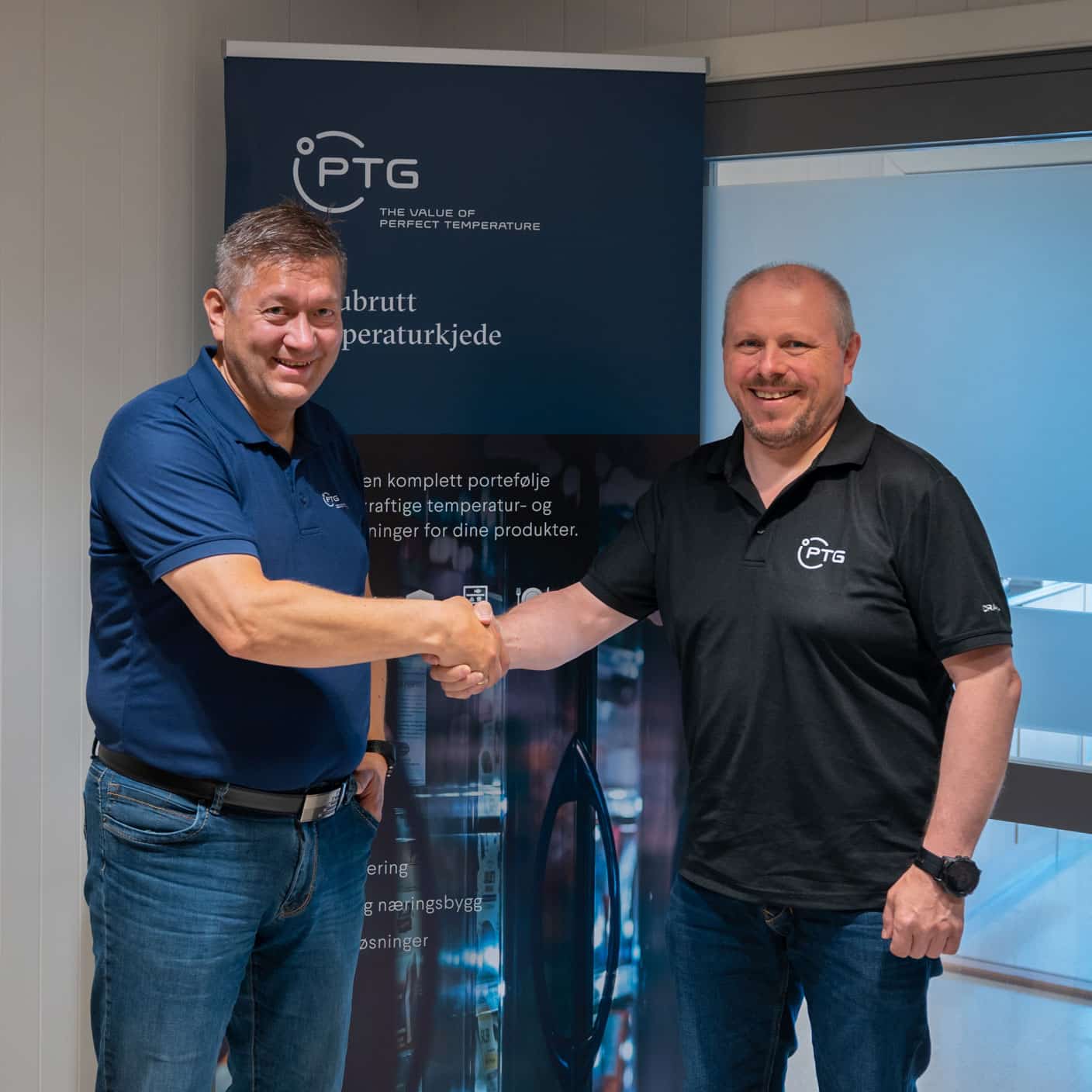 From left: departed CEO Mikael Andersen and successor Odd Eirik Nikolaisen. Photo: Baard Selfors
Becoming the boss's boss
Since then, Andersen has been Nikolaisen's boss. But they have colla­bo­rated well and, when it became clear that the CEO wanted to downscale to a sales engineer role in the company, Nikolaisen thought he might be the right person to replace him. The board agreed.
"Mikael has involved me the whole time in decisions, and willingly shared both knowledge and experience," says Nikolaisen. "While he comes from the engineer side, I became involved in the sector as a craftsman and refri­ge­ration installer. We've therefore comple­mented each other well. He's built a well-oiled organi­sation which is prospering in the market, with a very fine team of employees who function smoothly together."
A sure thing
Despite the change of leadership, the new CEO promises that no immediate revolution is going to occur at PTG Multi Kulde.
"The concept we've built up with retail outlets in the region has been a success story for 15 years," he observes. "We'll therefore continue to make this our priority, while devel­oping and adapting to the market. And we'll be working actively on recruitment. It's important to establish an early dialogue with school pupils and students in order to highlight the opport­u­nities available in the region."
"People must have food, and in difficult times they buy even more in shops in order to cook at home. That makes working with refri­ge­ration services for the retail sector a sure thing," Andersen says with a smile.
Cold motivation
The former CEO reveals at the same time that he is not quite finished with refri­ge­ration. In addition to retaining a job as a PTG sales engineer for four days a week, his dream is to use the extra free time to cross Greenland on foot. He has already done that, in 2015, and is keen to repeat the experience.
Asked where this fasci­nation with cold comes from, Andersen admits that it was a little accidental. "When I was at engineering college in Trondheim during the 1990s, I heard about something called heat pumps. I found it very inter­e­sting that you could magic up heat from colder outdoor tempe­ra­tures, and quickly under­stood that this had to be the future. So I'm not dropping the business, but will try to combine it with a bit more time for hiking and travelling – and hopefully another trip over Greenland."